Designed with comfort and ease-of-use in mind, the Nilfisk GD10 Back Vacuum – popularly nicknamed a "backuum" – is a powerful vacuuming system equipped with a variety of features for fast and effective cleaning. This vacuum cleaner replaces the previous Nilfisk Backuum, model #01796934. The Nilfisk GD10 boasts an upstream HEPA filter that safely traps 99.97% of hazardous dust and other particulates as small as 0.3 microns. Its unique, ergonomic design, lighter weight, and comfortable carrying harness maximize mobility and make it easier to clean confined or cluttered areas. Use it to clean cinemas, theaters, transit vehicles, hotels, offices, and households.
Overall, the Nilfisk GD 10 Back Vacuum with HEPA filter has more than twice the particle capacity, features a more ergonomic design, and performs better than the first-generation Nilfisk Back Vacuum. With its advanced filtration system and upgraded features, the GD10 can boost your cleaning productivity by up to 30% when compared to traditional upright vacuums.
Robust, 4-Stage Filtration System
The Nilfisk GD10 Back Vacuum is equipped with a robust, 4-stage filtration system that helps protect both the vacuum cleaner itself as well as your environment. Filters include:
Pre-Filter – The Nilfisk GD10 pre-filter is the first point of filtration for incoming air. This filter helps remove larger particles and prolong the life of the remaining filters.
Main Filter – The sack-style main filter is efficient in removing 98.2% of particles and helps protect and prolong the life of the advanced HEPA filter and heavy-duty vacuum motor.
HEPA Filter – The upstream HEPA, or High Efficiency Particulate Air, filter is efficient in removing 99.97% of particles sized 0.3 microns and larger. For optimal performance, you should replace this filter every 6 months or more, depending on usage.
Exhaust Filter – This filter cleans the air exhausted from the motor, preventing harmful particles from being released back into your environment.
In addition, the Nilfisk GD10 features a quick-sealing dust bag that can be removed and sealed quickly to prevent harmful debris and allergen particles from escaping. This further protects your indoor environment and air quality.
Ergonomic Design for Operator Comfort
With adjustable shoulder straps and a comfortable tool storage waistband, the Nilfisk Backpack Vacuum Cleaner increases your comfort and productivity with each task. For safety, the vacuum's hot exhaust air is blown upward in order to keep heat away from the operator. Additionally, the canister-style GD10 delivers quieter operation than comparable vacuum cleaners.
Included Accessories
The Nilfisk GD 10 includes a variety of accessories to increase cleaning effectiveness and efficiency. These include:
Combination Floor Nozzle – The floor nozzle features a manual on/off brush control for cleaning bare floors (brush off) and carpeting (brush on).
Round Dust Brush – Dust and clean furnishings and other small items using the round dust brush attachment.
Crevice Cone – Clean tight spaces such as those in furniture, radiators, corners, and joints with the crevice tool.
Telescopic Wand – The telescoping wand extends cleaning reach with the touch of a button.
Replacement Dust Bags – A 5-pack of replacement dustbags (part # 1471097500) is included in the vacuum package.
EPA RRP-Compliant
If you are a contractor, the Nilfisk GD 10 Backpack Vacuum can help you comply with the EPA's Lead Renovation, Repair, and Painting rule. In addition to using a HEPA filter, this vacuum can accommodate a turbo floor nozzle with beater bar to improve lead dust removal on carpeting. The Nilfisk Turbo Floor Nozzle – Part # 56649625 (sold separately) works to dislodge heavy lead particulates that may have accumulated in carpet fibers overtime. Using a HEPA vacuum like the GD10 equipped with a floor nozzle that features a beater bar when cleaning carpeting is required to remain EPA RRP-compliant.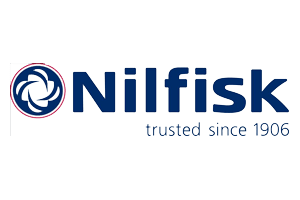 Authorized Reseller
Manufacturer's Warranty
2-Year Warranty
What's In The Box?
GD10 Back Vacuum
Pre-Filter
Main Sack Filter
HEPA Filter
Exhaust Filter
Plastic Curved Hose
Telescoping Wand
Combination Floor Nozzle
Round Dust Brush
Crevice Cone
Package of 5 Dust Bags