The R25 Premium Pet vacuum gives a world-class cleaning experience on bare floors to plush carpets and everything in between. Using Clean Air technology, it's built to provide powerful suction when using tools. Has a self-adjusting nozzle that transitions seamlessly from ultra-plush carpet to bare floors, without scratching wood or blowing dust. Large rubber wheels and a 360-degree turning caster, plus smaller rubber wheels, give this vacuum the amazing ability to turn on a dime.
Lower it to the floor for cleaning under furniture, or stretch the hose and wand to a full 15 feet to clean crevices you never thought you'd reach with an upright vacuum. Another helpful feature is the sensor light that tells you when it's time to change the bag.
Features:
Top-loading bag that's easy to change
Stretch hose and telescoping wand that reach up to 15 feet
Lays all the way flat to get under tables & furniture
HEPA media and charcoal filtration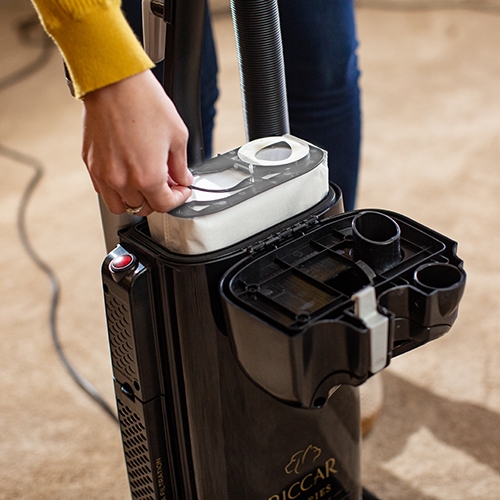 Top-Loaded and Contained:
The R25 has a bag that loads in the top of the machine, unlike most uprights where the bag loads in the front. Our unique design keeps more dirt contained in the bag, keeping your house cleaner.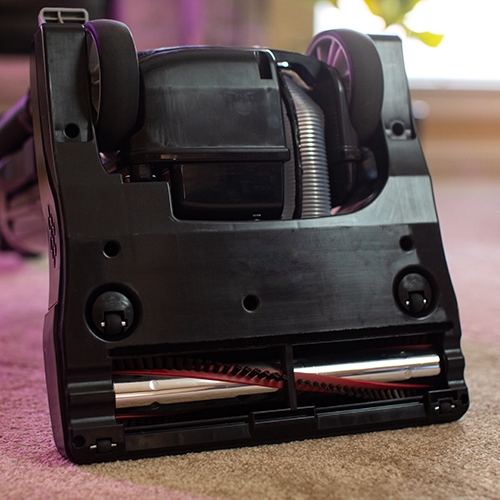 Durability and Utility:
At Riccar, we make vacuums with high-quality materials. You can see that with our steel brush roll and replaceable strips. We also put caster wheels in front. These allow you to turn on a dime to get spots you missed.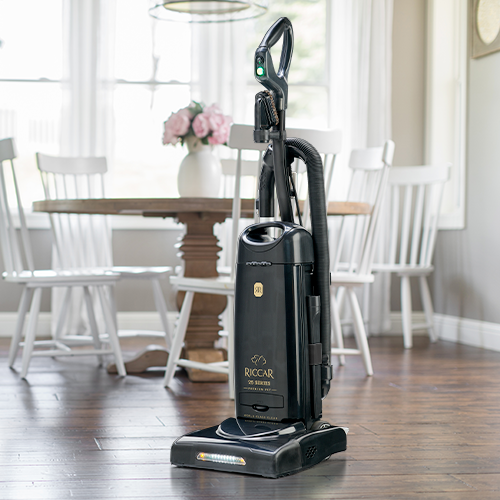 A Premium Machine with Premium Features:
The R25 Premium has a headlight, full bag indicator, aluminum wand, granulated charcoal filter, 5-year warranty, and the Red Carpet Service Plan.